The Purushanda (Purushattum - Burushattum -Acemhoyuk) Kingdom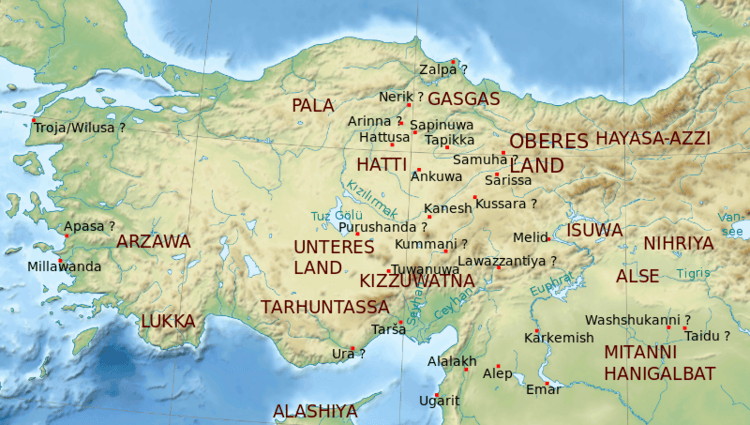 The Purushanda kingdom appears to have been a significant rival of Kanesh, the kingdom ruled by Anitta. The Hittite king launched a war against Purushanda but according to the Anitta Text, a Hittite account of later date, the Purushandan king surrendered to the Hittite army:

'When I went into battle, the Man of Purushanda brought gifts to me; he brought to me a throne of iron and a sceptre of iron as a gift. But when I returned to Nesa [Kanesh] I took the Man of Purushanda with me. As soon as he enters the chamber, that man will sit before me on the right.'

The text indicates that the right to rule over Purushanda's territory – symbolised by the regalia of office, the throne and sceptre – was surrendered to Anitta. Its king was reduced to the status of a privileged vassal, entitled to join Anitta at the court in Kanesh in recognition of his voluntary surrender and his high-born status. The kingdom itself probably ceased to exist at this point and was absorbed into Hittite-ruled territory.

The city is also prominently mentioned in the Cappadocian Texts, a collection of Hittite writings unearthed at Kanesh. They depict it as a major seat of power in the region, describing its ruler as "Great King" (rubā'um rabi'um) whereas other rulers are merely "kings". A separate text known as the "King of Battle" (šar tamhāri), dating to the 14th century BC, recounts a heavily embellished account of the Akkadian king Sargon carrying out an expedition against Purushanda's ruler Nur-Dagan (or Nur-Daggal). The story is ahistorical, as it apparently portrays the 23rd-century Sargon in an anachronistic 19th-century BC setting. Some modern scholars consider it a work of fiction, although the Akkadian language version was also found among the Amarna letters (Egypt), and it may have some basis in historical fact.

In the story, Sargon yearns for battle but is advised against it by his generals. Nonetheless, when a message arrives from a group of Akkadian merchants in Purushanda pleading for help from Sargon against the oppressive Nur-Dagan, the king mobilises his army and marches off through difficult terrain. Nur-Dagan is hopeful that flooding and the terrain will thwart Sargon, but the Akkadian launches a lightning attack which captures Purushanda. Nur-Dagan is taken prisoner and grovels before Sargon, declaring him to be a peerless mighty king and perhaps swearing allegiance as a vassal. After three years the Akkadians leave, taking with them the fruits of the land as spoils of war.
TransAnatolie Tour (Multi-Lingual Cultural Tour Operator)
TransAnatolie Tour is a subgroup of Anadolu and is a Multi-Lingual Cultural Tour Operator in Anatolia (Asia Minor) Turkey.

TransAnatolie Tour has the ambition and the capacity to be become one of the leading provider and operator of archaeological, historical, belief (biblical) and cultural heritage tours and specialty travel with high Quality of Service (QoS) concept.

TransAnatolie Tour develops its programs with a network of Specialists, who are well recognized, local, regional, national, and international professionals at the top of their fields. These Specialists share their knowledge, insights and vision providing an in-depth insiders understanding of what distinguishes a particular culture and what factors shaped its evolution.

TransAnatolie Tours are executed in five languages (Dutch, English, French, German and Turkish) with high QoS concept by Tourism Professionals of valuable experience, intelligence and high intellectual capacity.

TransAnatolie Tour executive and operations teams have been at the cutting edge of international tour (holiday) operations and specialty travel since 1990s, working with organizations, universities and museums to provide unique travel experiences, cultural and belief (biblical) tours (holidays/trips) to their memberships.

Multi-Lingual TransAnatolie Tour team members have many years of valuable experience in providing individuals and organizations with high quality cultural, historical, belief/biblical, archaeological, architectural tours and travel experiences with high quality of service (QoS).

TransAnatolie has immersed travelers in Anatolia's most fascinating ancient cultures and provided enriching travel experiences.

TransAnatolie (International Multi-Lingual Cultural Tour Operator) has also been in small boat cruises, building exciting travel packages around these unique vessels.

TransAnatolie is now expanding its distribution by making these high quality, unique travel products and programs available to the public. Supported by our international network of offices and affiliates worldwide, the aim of TransAnatolie Team of travel professionals and passionate program specialists is to make your next 'vacation' a truly rewarding travel experience.
TransAnatolie Tour is a member of
Turkish Ministry of Culture and Tourism (Licence No. 4938)

Ankara Chamber of Commerce (Trade registry under No. 54/1024)

Turkish-French Cultural Association

Turkish Association at the United Nations

Union of Turkish Tour Operators (TÜRSAB)

Union of Multi-Lingual Professional Tourism Guides (TUREB-ARED)

Ankara Cultural Tourism Association (BATUDER)

Nigde Cultural Association

Aksaray Cultural Association

Arts & Cultural Association of Taspinar.
TransAnatolie info-webs (pages):
On these webs you will find background information about our company, our offices, our current job offers and more info about current and future products and services.

If you could not find the information you need on these pages and/or on our other pages, or for inquires please do not hesitate to contact us at: info[at]transanatolie.com

TransAnatolie Tour

Kültür Gezi Sağlayıcısı ve Operatorü-Kültür ve Turizm Bakanlığı 4938 No'lu Grup A Lisans
---