Urartu and Urartians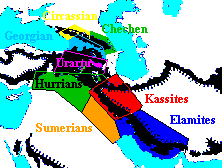 Urartu is a geographical region commonly used as the exonym for the Iron Age kingdom also known by the modern rendition of its endonym, the Kingdom of Van, centered around Lake Van. The kingdom rose to power in the mid-9th century BC, but went into gradual decline and was eventually conquered by the Iranian Medes in the early 6th century BC.

Assyrian inscriptions of Shalmaneser I (c. 1274 BC) first mention Uruartri as one of the states of Nairi, a loose confederation of small kingdoms and tribal states in the thirteenth to eleventh centuries BC which he conquered. Uruartri itself was in the region around Lake Van. The Nairi states were repeatedly subjected to further attacks and invasions by the Middle and Neo-Assyrian Empires, which lay to the south in Upper Mesopotamia ("the Jazirah") and northern Syria, especially under Tukulti-Ninurta I (c. 1240 BC), Tiglath-Pileser I (c. 1100 BC), Ashur-bel-kala (c. 1070 BC), Adad-nirari II (c. 900 BC), Tukulti-Ninurta II (c. 890 BC), and Ashurnasirpal II (883–859 BC).

Urartu reemerged in Assyrian language inscriptions in the ninth century BC as a powerful northern rival to the Neo-Assyrian Empire. The Nairi states and tribes became unified kingdom under King Arame of Urartu (c. 860–843 BC), whose capitals, first at Sugunia and then at Arzashkun, were captured by the Assyrians under the Neo-Assyrian emperor Shalmaneser III.

Urartologist Paul Zimansky speculated that the Urartians, or at least their ruling family after Arame, may have emigrated northwest into the Lake Van region from their religious capital of Musasir. According to Zimansky, the Urartian ruling class were few in number and governed over an ethnically, culturally, and linguistically diverse population. Zimansky went so far as to suggest that the kings of Urartu might have come from various ethnic backgrounds themselves.

Assyria fell into a period of temporary stagnation for decades during the first half of the 8th century BC, which had aided Urartu's growth. Within a short time it became one of the largest and most powerful states in the Near East.

Urartu reached the highest point of its military might under Menua's son Argishti I (c. 785–760 BC), becoming one of the most powerful kingdoms of ancient Near East. Argishti I added more territories along the Aras and Lake Sevan, and frustrated Shalmaneser IV's campaigns against him. Argishti also founded several new cities, most notably Erebuni Fortress in 782 BC. 6600 prisoners of war from Hatti and Supani were settled in the new city.

At its height, the Urartu kingdom stretched north beyond the Aras and Lake Sevan, encompassing present-day Armenia and even the southern part of present-day Georgia almost to the shores of the Black Sea; west to the sources of the Euphrates; east to present-day Tabriz, Lake Urmia, and beyond; and south to the sources of the Tigris.

Tiglath-Pileser III of Assyria conquered Urartu in the first year of his reign (745 BC). There the Assyrians found horsemen and horses, tamed as colts for riding, that were unequalled in the south, where they were harnessed to Assyrian war-chariots.

In 714 BC, the Urartian kingdom suffered heavily from Cimmerian raids and the campaigns of Sargon II. The main temple at Musasir was sacked, and the Urartian king Rusa I was crushingly defeated by Sargon II at Lake Urmia. He subsequently committed suicide in shame.

Rusa's son Argishti II (714–685 BC) restored Urartu's position against the Cimmerians, however it was no longer a threat to Assyria and peace was made with the new king of Assyria Sennacherib in 705 BC. This, in turn, helped Urartu enter a long period of development and prosperity, which continued through the reign of Argishti's son Rusa II (685–645 BC).

After Rusa II, however, Urartu grew weaker under constant attacks from Cimmerian and Scythian invaders. As a result, it became dependent on Assyria, as evidenced by Rusa II's son Sarduri III (645–635 BC) referring to the Assyrian king Ashurbanipal as his "father".

According to Urartian epigraphy, Sarduri III was followed by two kings—Rusa III (also known as Rusa Erimenahi) (620–609 BC) and his son, Rusa IV (609–590 or 585 BC). There is speculation that Rusa III's father, Erimena, may have been a king as well, possibly ruling from 635–620 BC, but little is known about him. It is possible that Rusa III established a new dynasty and that his father, Erimena, had not been king.

Late during the 7th century BC (during or after Sarduri III's reign), Urartu was invaded by Scythians and their allies—the Medes. In 612 BC, the Median king Cyaxares the Great together with Nabopolassar of Babylon and the Scythians conquered Assyria after it had been irreversibly weakened by civil war. The Medes then took over the Urartian capital of Van in 590 BC, effectively ending the sovereignty of Urartu. Many Urartian ruins of the period show evidence of destruction by fire.

The Kingdom of Van was destroyed in 590 BC and by the late 6th century, the Satrapy of Armenia had replaced it. Little is known of what happened to the region between the fall of the Kingdom of Van and the appearance of the Satrapy of Armenia. According to historian Touraj Daryaee, during the Armenian rebellion against the Persian king Darius I in 521 BC, some of the personal and topographic names attested in connection with Armenia or Armenians were of Urartian origin, suggesting that Urartian elements persisted within Armenia after its fall (wiki).
Kings of Urartu
| | |
| --- | --- |
| Aramu/Arame | c.860-c.840 |
| Sarduri I | c.840-c.825 |
| Ishpuini | c.825-c.810 |
| Menua | c.810-c.785 |
| Argishti I | c.785-c.763 |
| Sarduri II | c.763-c.734 |
| Rusa I | c.734-c.714 |
| Argishti II | c.714-c.685 |
| Rusa II | c.685-c.645 |
| Sarduri III | c.645-c.635 |
| Erimena | c.635-c.629 |
| Sarduri IV | c.629-c.590/585 |
The existence of Urart.u was hardly even suspected until so much about it was found in the Assyrian annals. Even the name Urart.u is Assyrian. In Urartuan it was Biainili. This a good clue that Urartuan was an unrelated language. It was. The language was one of the non-Semitic and non-Indo-European languages of the ancient Middle East, like Sumerian, Elamite, Hurrian, and Kassite, and like three separate groups of surviving languages in the Caucasus (Georgian, Circassian, etc.). The language is known from Urartuan inscriptions; but there are no other texts or literature surviving in the language, so our knowledge of Urartuan history is relatively impoverished. When the Assyrian records cease to be informative, and Urartuan inscriptions thin out, events disappear from history.
Urart.u was regarded by the Assyrians as a major enemy. They were ultimately able to defeat and roll back the Urartuans, but never overrun or conquer them. More damaging for the survival of the Kingdom were nomadic inroads by the Scythians and Cimmerians. After Rusa II things get very obscure, and the only certain thing (more or less) is that the Medes end up in possession of the area, variously stated as by 590 or 585 -- part of the campaign that led to Lydia and the Battle of the Eclipse. What is curious is what emerges next: the Armenians. The Urartuan language disappears, like the closely related Hurrian. The classic Kingdom was already a mixture of various groups, as can easily happen in a mountainous region with isolated valleys, including speakers of an Indo-European language, Armenian, apparently closely related to Phrygian and Cappadocian further west. The Urartuan speakers ended up linguistically and/or demographically overwhelmed. Urart.u thus tends to be regarded as the institutional predecessor of the later Armenian kingdoms. The word "Urart.u" itself is evidently preserved in the name of Mt. Ararat (16,940 ft.), an active volcano and called Agri. It has gained the reputation of being the site of the resting place of Noah's Ark.
The list of Kings is from Amélie Kuhrt, The Ancient Near East, c.3000-330 BC [Routledge, 1995, 2000, Volume II, p.552] and A.E. Redgate, The Armenians [Basil Blackwell, 1998, 2000, pp.29-30].
A noteworthy detail in Redgate is that a title of the Urartuan King was "Kings of Kings" [p.43]. This is familiar from the Assyrians, Medes, and Persians, but Redgate says that before Tukulti-Ninurta I (1244-1208) used it, it was previously just used for gods (apart from the name of the Sargonid Shar-kalli-sharri, "King of all Kings"). Redgate thinks this implies a claim to divine kingship, passed on to the Persians, not so much from Assyria as from Urart.u (Kelley L. Ross, Ph.D.)
---
About TransAnatolie
TransAnatolie Tour (Multi-Lingual Cultural Tour Operator)
TransAnatolie Tour is a subgroup of Anadolu and is a Multi-Lingual Cultural Tour Operator in Anatolia (Asia Minor) Turkey.

TransAnatolie Tour has the ambition and the capacity to be become one of the leading provider and operator of archaeological, historical, belief (biblical) and cultural heritage tours and specialty travel with high Quality of Service (QoS) concept.

TransAnatolie Tour develops its programs with a network of Specialists, who are well recognized, local, regional, national, and international professionals at the top of their fields. These Specialists share their knowledge, insights and vision providing an in-depth insiders understanding of what distinguishes a particular culture and what factors shaped its evolution.

TransAnatolie Tours are executed in five languages (Dutch, English, French, German and Turkish) with high QoS concept by Tourism Professionals of valuable experience, intelligence and high intellectual capacity.

TransAnatolie Tour executive and operations teams have been at the cutting edge of international tour (holiday) operations and specialty travel since 1990s, working with organizations, universities and museums to provide unique travel experiences, cultural and belief (biblical) tours (holidays/trips) to their memberships.

Multi-Lingual TransAnatolie Tour team members have many years of valuable experience in providing individuals and organizations with high quality cultural, historical, belief/biblical, archaeological, architectural tours and travel experiences with high quality of service (QoS).

TransAnatolie has immersed travelers in Anatolia's most fascinating ancient cultures and provided enriching travel experiences.

TransAnatolie (International Multi-Lingual Cultural Tour Operator) has also been in small boat cruises, building exciting travel packages around these unique vessels.

TransAnatolie is now expanding its distribution by making these high quality, unique travel products and programs available to the public. Supported by our international network of offices and affiliates worldwide, the aim of TransAnatolie Team of travel professionals and passionate program specialists is to make your next 'vacation' a truly rewarding travel experience.
TransAnatolie Tour is a member of
Turkish Ministry of Culture and Tourism (Licence No. 4938)

Ankara Chamber of Commerce (Trade registry under No. 54/1024)

Turkish-French Cultural Association

Turkish Association at the United Nations

Union of Turkish Tour Operators (TÜRSAB)

Union of Multi-Lingual Professional Tourism Guides (TUREB-ARED)

Ankara Cultural Tourism Association (BATUDER)

Nigde Cultural Association

Aksaray Cultural Association

Arts & Cultural Association of Taspinar.
TransAnatolie info-webs (pages)
On these webs you will find background information about our company, our offices, our current job offers and more info about current and future products and services.

If you could not find the information you need on these pages and/or on our other pages, or for inquires please do not hesitate to contact us at: info[at]transanatolie.com

TransAnatolie Tour

Multilingual Cultural Tour Provider and Operator

A - Group License N°4938 - The Turkish Ministry of Culture and Tourism
---