1. ROMÂNIA
Continued from "Rome and Romania," "Romanians"
WALLACHIA
MOLDAVIA
Radu Mihnea
Voivode,
Prince,
Governor,
1611-1616,
1623-1626
Leon Tomsa
1629-1632
Miron
Barnovschi
Movila
Voivode,
Prince,
Governor,
1626-1629,
1633
Matei Basarab
1632-1654
Vasie Lupu
1634-1653
Constantine
Serban
1654-1658
Grigore Ghica
1660-1664
Serban
Cantacuzino
1678-1688
Constantine
Brancoveeanu
1688-1714
Constantine
Cantemir
1685-1693
Phanariot Greek Tax Farming
1716-1717,
1719-1730
Nicholas Mavrocordat
1711-1714
Stephen
Cantacuzino
1714-1716
1741-1744
Michael Racovita
1717-?
1735-1741,
1744-1748
Gregoy Ghica
1726-1733,
1774-1777
Constantine Mavrocordat
1741-1743,
?-1769
Russian right of intervention,
Treaty of Kuchuk Karinarji, 1774
Alexander
Ypsilanti
1774-1782
Alexander
Moruzi
?-1806
Constantine
Ypsilanti
1802-1806
Russian Occupation, 1806-1812
John Caragea
1812-1818
Scarlat Calimah
1812-1819
Alexander Sutu
1818-1821
Russian Occupation, 1828-1834;
Governor Count Kisselev
Alexander Ghica
1834-1842
Mihai Sturdza
1834-1849
Georghe Bibescu
1842-1848
Revolution in Wallachia, 1848;
Russian Occupation, 1848-1851;
Crimean War, 1853-1856;
Russian Occupation, 1853-1854;
Austrian Occupation, 1854-1857
Alexander John Cuza of Moldavia
1859-1866
Charles Eitel Frederick
of Hohenzollern-Sigmaringen,
Carol I
1866-1881
King,
1881-1914
Russo-Turkish War, 1876-1878;
Russian Invasion, Romania proclaimed
independent, 1877;
Congress of Berlin, Romania Independent, 1878
Ferdinand
1914-1927
Michael
1927-1930,
1940-1947
Carol II
1930-1940
Ion Antonescu, pro-German dictator
1940-1944
Communist takeover, 1947
Constantin Parhon
President, 1948-1952
Petru Groza
1952-1958
Ion Georghe Maurer
1958-1961
Georghe Georghiu-Dej
1961-1965
Chivu Stoica
1965-1967
Nicolae Ceauçescu
1967-1989, executed
Ion Iliescu
1989-1996, 2000-present
Emil Constantinescu
1996-2000

The Principalities of Wallachia and Moldavia have a continuous institutional history back to the 14th Century, which means that this table simply continues the table begun on the Rome and Romania page.

Turkish rule, however, led to the practice of the appointment of Greek tax farmers, the Phanariots (from the Phanar section of Istanbul), as Princes. Their job was simply to get as much money out of the land as possible, both for the Sublime Porte (the Ottoman government) and for themselves (the reason to be a tax farmer). This was not good, or popular, for the Principalities, but not much could be done about it until Russian power began to be felt in the region. The Russian wars against Turkey in the 19th Century led several times to the occupation of Wallachia and Moldavia. After the Crimean War (18453-1856) and, for a change, Austrian occupation (1854-1857), and a bad experience with a local candidate for rule of the unified country, a European prince, as in Greece and Bulgaria,

was brought in, Karl of Hohenzollern. The Congress of Berlin recognized Karl (Carol) and Romanian independence (1878). With the Allies in World War I, winning Transylvania from Hungary and Moldova from Russia -- Romania was the biggest long term winner of the War in the Balkans -- Romania, after much internal strife, switched to the Axis in World War II, losing Moldova to the Soviet Union (seized in 1940, actually, before Romania was a belligerent) and part of Dobruja to Bulgaria. While Moldova is now independent, I have not noticed any discussion of reunion with Romania.
Rejecting the Cyrllic alphabet and the Turkish influenced "Rumania" (or "Roumania") for

the Latin alphabet and the pure Latin România, Romania can now claim that name as its own, with few remembering that it was the proper name of the Roman (and the "Byzantine") Empire. In the Middle Ages, "Romania" tended to refer to the contemporaneous extent of the Empire, i.e. Anatolia and the Balkans ("Asia and Europa" or "Rûm and Rumelia"). The modern state might be said to be "Lesser Romania" in contrast to that "Greater Romania"; but this might be considered insulting by Romanians and so is not likely to catch on.
The mysterious history of Romance speakers in the Balkans, the Romanians and Vlachs, whose existence is not noticed until the 12th Century and whose language is not attested until the 16th, is treated separated in "The Vlach Connection and Further Reflections on Roman History." This is a story now charged with the nationalism both of Romania and neighbors like Hungary.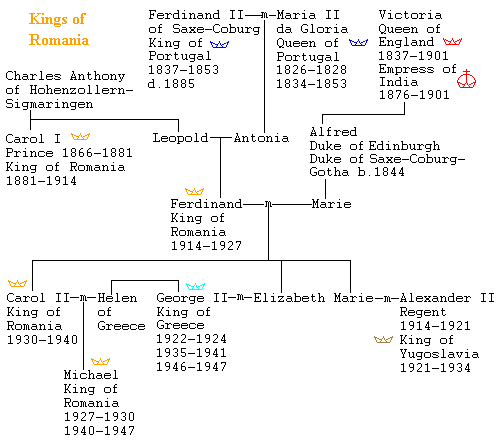 The marriages of the Romanian Royal Family quickly connected it to major European, especially British and Greek, royalty. Thus King Ferdinand was the grandson of a first cousin of Queen Victoria and Prince Albert (Ferdinand of Portugal, the brother of Augustus, Prince of Coburg, who was the father of Ferdinand of Bulgaria), and he married one of their own granddaughters, Marie of Saxe-Coburg-Gotha. King Carol II then married Helen of Greece, who was a great-granddaughter of Queen Victoria, through her mother Sophia, the sister of Kaiser Wilhlem II of Germany. All these connections, of course, profited the monarchy little in the conflicts of fascism and communism that had the country under one form of dictatorship or another from 1940 to 1989.
Mediaeval România

The two maps above show the situation before and after the Russo-Turkish War of 1877-1878. Note that by then Britain had ceded the Ionians Islands to Greece (1864). In 1875 rebellions started in Bosnia and then Bulgaria. The brutality with which these were suppressed aroused European opinion, and after some delay Russia declared war. With some hard fighting, the Russians ended up capturing Adrianople and arriving at the outskirts of Constantinople. The Treaty of San Stephano which ended the war mostly freed the Balkans, but the Great Powers didn't like it. The Congress of Berlin rolled things back a bit. Serbia, România, and Montenegro all became independent, with increases in territory, but Bulgaria was divided and merely allowed autonomy. Bosnia, Herzegovina, and Novipazar were made protectorates of Austria. The map looked much the same for many years, with Bulgaria annexing East Rumelia in 1885.