Macedonia
7. MACEDONIA

Nikola Kljusev
1991-1999
Savo Klimovoski
1999
Boris Trajkovski
1999-present

Claimed by Bulgaria and seized by Serbia in the Balkan Wars, Macedonia was nevertheless allowed to leave Yugoslavia in 1991 with a minimum of hassle. Much more hassle came from Greece, which felt threatened by this tiny state using the name "Macedonia" and, apparently, identifying itself with the Macedonia of Alexander the Great. The new flag

featured the "Star of Vergina," from the tomb of Philip II of Macedon. This implied Macedonian designs on northern Greece, also containing part of historic Macedonia; and indeed Macedonians did express some claims there. I even saw stickers on lampposts in New York City proclaiming "Macedonia is Greek!" What this was supposed to mean was not going to be obvious to anyone. It made it sound like Greece itself had designs on the new Republic of Macedonia. Did anyone even in New York City know, or care, what this was all about? Probably not.

As it happened, Greece initially blocked admission of Macedonia to the United Nations. The flag was modified and the country is now usually referred to as the "Former Yugoslav Republic of Macedonia" (FYRM). Bulgaria seems to have given up claims to Macedonia, but I am still not clear whether Macedonian is or is not a dialect of Bulgaria. There are ways to determine this. Otherwise, the region has simply never been anything but "Macedonia."

I have received correspondence from a couple of Greeks disputing this, contending that the territory of the FYRM was never in historic Macedonia. Well, there is going to be considerable uncertainty about all ancient boundaries, and there is no telling how far Philip II's Macedonia extended north. Chances are it was well into FYRM territory (probably the whole valley of the Vardar/Axios River). Nevertheless, for Roman Macedonia the boundaries are better known. The capital of the FYRM, Skopje (Roman Scupi), was definitely in the early Roman province of Moesia Superior (later Dacia Mediterranea). However, the boundary of Moesia was immediately south of Skopje, which itself is quite close to the northern boundary of the FYRM. One map in the Atlas of the Roman World (Tim Cornell & John Matthews, Facts on File Publications, 1982, 1988, p.75) shows the bend of the Axius (Axios/Vardar) River, with Scupi on the north bank, as the actual northern boundary of Macedonia. Other maps (pp.141, 146) show some of the bend itself in Moesia, but this still leaves most of the territory of the FYRM in Roman Macedonia. The Roman cities of Stobi (near modern Stip), Lychnidus (modern Ohrid), and Heraclea Lyncestis (near modern Bitola) were all in Roman Macedonia and in the present FYRM. There is agreement on this in the Atlas of Classical History (Richard J.A. Talbert, Routledge, 1985, 1989, p.143).

For some, Macedonian claims to Greek Macedonia may be based on the territorial integrity of the Macedonia of Philip II and on the presumed ethnic identity of the modern Macedonians with the ancient. This kind of claim cannot now be taken seriously, both because ancient boundaries are going to mean nothing in modern international law and because the modern Macedonians speak a

Slavic language which certainly has nothing to do with the (albeit poorly attested) language of the ancient Macedonians. The other basis of Macedonian claims, however, is more serious, and that concerns Macedonians living in Greece. The Greeks deny that there is any such presence; but then Greece officially denies that there are any ethnic minorities in Greece. Linguistic maps of Greece in the 19th century show areas of speakers of Albanian, Vlach, Macedonian, and even Turkish. The Anchor Atlas of World History, Volume II (Hermann Kinder, Werner Hilgemann, Ernest A. Menze, and Harald and Ruth Bukor, 1978) shows Macedonian speakers extending from south of Skopje (Üsküp in Turkish, in a partially Albanian speaking area, continguous with Kosovo) all the way down to Thessalonica (p.120). If there are no longer Macedonian speakers in the modern Greek part of this area (only acquired in 1913), then there is some explaining to do. If Greece expelled the Macedonians, suppressed their language, or got them to leave through harassment or oppressive policies, none of these are going to be admissions to the credit of Greece, or admissions likely to be made, for just such a reason. At the very least, the FYRM can reasonably ask for an accounting on this issue.
I am informed that Greeks would be happy with the FYRM simply being called "Northern Macedonia."

This is a little silly and is not going to make any difference in any Macedonian claims or possible threat against Greece. A parallel situation in Europe is actually the relationship of Luxembourg to Belgium. When Belgium became independent of the Netherlands in 1830, it took with it a very large part of Luxembourg. This area of Belgium is still called "Luxembourg." I have never heard that Luxembourg, which itself became independent of the Netherlands in 1890, today makes any claims against Belgium. But even if it did, tiny Luxembourg, although with the highest per capita income in the world, would not constitute any kind of real threat. Poor and tiny Macedonia is not going to constitute any more of a threat to Greece. If Macedonian guerrillas were crossing over into Greece, this would be a matter of real concern and complaint, but I do not understand that anything of the sort has happened; and even if it did, Greece would have no difficulty knowing where to direct counter-action.
As it has happened, the problem of guerrillas has troubled the FYRM itself. Albanian refugees inundated northern Macedonia in 1999, where there was already, as noted, an Albanian community. With them came armed Albanians who, having lost in battle with the Serbs, were interested in "liberating" northern Macedonia. They succeeded no better there, but for a while there was considerable danger of a wider conflict. Meanwhile, Macedonia is the poorest of the former Yugoslav Republics, with a lower per capita income even than Albania. This puts it perilously close to being the poorest country in Europe -- though it is probably safe from that, since Moldova has a per capita income of not much over $300, while Macedonia's is more than $1500. "Room for improvement" hardly begins to tell the tale. The dispute over Macedonia's name and claims doesn't even begin to address the real problem economic development in the FYRM and elsewhere in the Balkans.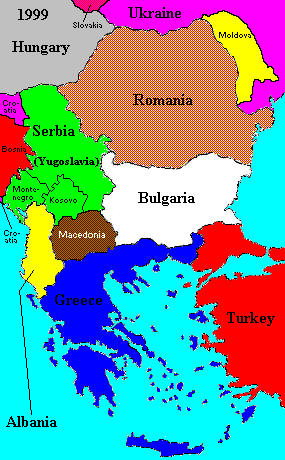 A major part of Serbia itself since 1913, the province of Kosovo was only 10% Serb in population. Most of the rest were Albanian Moslems, who had been deprived of the autonomy they had under the old Yugoslavia and were now beginning to fight for independence through the radical Islamic "Kosova Liberation Army" (KLA). What many observers expected, then, was that the Serbs would turn the "ethnic cleansing" campaign made famous in Bosnia to the problem of too many Albanians, especially rebellious Albanians, in Kosovo. With the UN and the NATO allies already energized about Bosnia, simple defiance was not going to work for the Serbs the way it might have if action had been taken against Kosovo before all the events in Bosnia. But defiance was the approach that the Serbs took, over a land to which they emotionally claimed "historic rights," but which had mostly been occupied by others since the 17th century and had been in Serbian hands only since 1913. Although many Serbs now cite atrocities during World War II or say there was even "ethnic cleansing" against them under Tito, their claim to Kosovo is mainly as part of "historic" (i.e. 14th century) Serbia.
Unfortunately, in modern Europe several wars have been fought between France and Germany, Italy and Austria, Germany and Poland, etc., over many such "historic" claims. Such things made a poor rationale for dictatorial and terrorist measures, especially by an undemocratic country. When NATO decided to move against Serbian measures in Kosovo in March 1999, we ended up with the next round of the ongoing Balkans War. This time, however, the naked preference of the Russians for the Orthodox Serbs over the Moslem Albanians, and similar sentiments evidently shared by Greeks and others, left the Albanians with no local friends at all. Albania itself has been a basket case of anarchy and corruption almost the whole time since the end of Communism there. But the outcome of such a conflict was very problematic when the NATO countries would rather fight a quick, high tech war on the cheap, before body bags and anti-war sentiment upsets things at home, while the Serbs, who learned their ruthlessness from Marshal Tito, wanted nothing better than to appear as martyrs of America, even while burning villages and driving people out of Kosovo. A century of war thus ended more or less as it began, with Serbian grievance dragging others into a war, while NATO, unable to commit on the ground, ended up bombing civilian infrastructure in Serbia, contrary to international law, in a rapidly growing "total war."
In June 1999, the Serbs finally gave in, after heavy bombing of Serbia itself, and the Kosovars, driving out the remaining Serbs of Kosovo and attempting to provoke an Albanian rising in Macedonia, have behaved more or less the way the Serbs did. But Kosovo now seems headed for long term autonomy or even independence.