Montenegro
Possessing one of the oldest traditions of local autonomy under the Turks, and a charming Italian version of its name (for the "Black Mountain," Qara Dagh in Turkish and Crna Gora in Serbo-Croatian), in the 20th century Montenegro was nevertheless overshadowed by its ethnic big brother, Serbia. After World War I, King Nicholas was thrown out so that Montenegro could join Yugoslavia. And when Yugoslavia collapsed, Montenegro was the only former Yugoslav republic to stick with Serbia. Religiously and lingustically this is understandable, but the Montenegrans are ambivalent about the present Serbian government, neither entirely sympathetic nor entirely unsympathetic. Since Montenegro represents

Serbia's only access to the sea, through the historic port of Kotor (Cattaro in Italian, obtained from Austria after World War I), the fear is that, should the Montenegrans decide to go their own way, the Serbs would use force, with enough local support to make resistance abortive. The title of the orignal "Prince-Bishops" of Montenegro, vladika, means "lord, sovereign" or "archbishop."
2. MONTENEGRO

Danilo I Petrovic
Prince-Bishop,
1697-1737
Sava
1737-1756
d.1782
Vasili
Coadjutor,
1756-1766
Stephen
the Little
Coadjutor,
1766-1774
Sava
Coadjutor,
1774-1782
Peter I
1782-1830
Peter II
1830-1851
Danilo II
1851-1860
Nicholas
1860-1910
King,
1910-1918,
d.1921
Union with Yugoslavia, 1918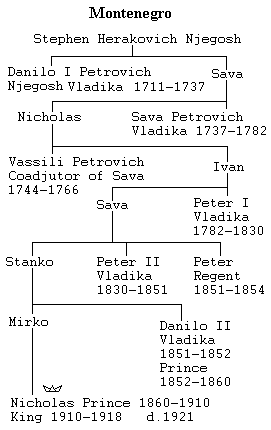 About TransAnatolie
TransAnatolie Tour (Multi-Lingual Cultural Tour Operator)
TransAnatolie Tour is a subgroup of Anadolu and is a Multi-Lingual Cultural Tour Operator in Anatolia (Asia Minor) Turkey.

TransAnatolie Tour has the ambition and the capacity to be become one of the leading provider and operator of archaeological, historical, belief (biblical) and cultural heritage tours and specialty travel with high Quality of Service (QoS) concept.

TransAnatolie Tour develops its programs with a network of Specialists, who are well recognized, local, regional, national, and international professionals at the top of their fields. These Specialists share their knowledge, insights and vision providing an in-depth insiders understanding of what distinguishes a particular culture and what factors shaped its evolution.

TransAnatolie Tours are executed in five languages (Dutch, English, French, German and Turkish) with high QoS concept by Tourism Professionals of valuable experience, intelligence and high intellectual capacity.

TransAnatolie Tour executive and operations teams have been at the cutting edge of international tour (holiday) operations and specialty travel since 1990s, working with organizations, universities and museums to provide unique travel experiences, cultural and belief (biblical) tours (holidays/trips) to their memberships.

Multi-Lingual TransAnatolie Tour team members have many years of valuable experience in providing individuals and organizations with high quality cultural, historical, belief/biblical, archaeological, architectural tours and travel experiences with high quality of service (QoS).

TransAnatolie has immersed travelers in Anatolia's most fascinating ancient cultures and provided enriching travel experiences.

TransAnatolie (International Multi-Lingual Cultural Tour Operator) has also been in small boat cruises, building exciting travel packages around these unique vessels.

TransAnatolie is now expanding its distribution by making these high quality, unique travel products and programs available to the public. Supported by our international network of offices and affiliates worldwide, the aim of TransAnatolie Team of travel professionals and passionate program specialists is to make your next 'vacation' a truly rewarding travel experience.
TransAnatolie Tour is a member of
Turkish Ministry of Culture and Tourism (Licence No. 4938)

Ankara Chamber of Commerce (Trade registry under No. 54/1024)

Turkish-French Cultural Association

Turkish Association at the United Nations

Union of Turkish Tour Operators (TÜRSAB)

Union of Multi-Lingual Professional Tourism Guides (TUREB-ARED)

Ankara Cultural Tourism Association (BATUDER)

Nigde Cultural Association

Aksaray Cultural Association

Arts & Cultural Association of Taspinar.
TransAnatolie info-webs (pages)
www.

facebook.com/TransAnatolieTour
On these webs you will find background information about our company, our offices, our current job offers and more info about current and future products and services.

If you could not find the information you need on these pages and/or on our other pages, or for inquires please do not hesitate to contact us at: info[at]transanatolie.com

TransAnatolie Tour

Multilingual Cultural Tour Provider and Operator

A - Group License N°4938 - The Turkish Ministry of Culture and Tourism
---