5. BULGARIA
Russo-Turkish War, 1876-1878
Alexander of
Battenberg
Prince,
1879-1886
Ferdinand of
Saxe-Coberg-Gotha
Prince,
1887-1908
King or Czar,
1908-1918
Boris III
1918-1943
Simeon II
1943-1946
Cyril
Regent,
1943-1944
Communist takeover, 1946
Vasil Petrov Kolarov
1946-1947
Mintscho Naitschev
1947-1950
Georgi Damjanov
1950-1958
Dimitar Ganev
1958-1964
Georgi Traikov
1964-1971
Todor Schivkov
1971-1989
Petar Mladenov
1989-1990
Schelju Schelev
1990-1997
Petar Stojanov
1997-2001
Georgi Parvanov
2001-present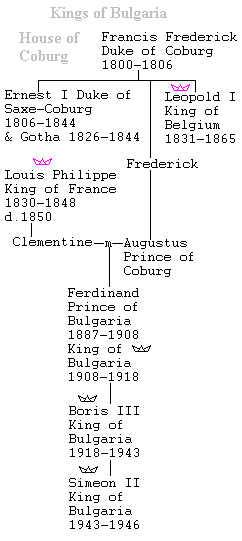 Bulgaria was the last of the mediaeval Balkan states to regain complete independence from Turkey. Although usually regarded as a Kingdom, rather more was implied when King Ferdinand (a second cousin of Edward VII of England) also called himself "Tsar." He is actually supposed to have carried around the vestments (obtained from a theatrical costumer) of a Roman (/Byzantine) Emperor. This was no less than what most of the successor states wanted, but the Bulgarians came closest to the physical heart of mediaeval Romania in the First Balkan War (1912-1913)

when they occupied Adrianople and drew near Constantinople. This advantage, however, was lost in the Second Balkan War (1913), when Bulgaria took on all the other belligerents from the First War, largely in a dispute with Serbia over Macedonia (where a dialect or near relative of Bulgarian was spoken), and was overwhelmingly defeated. Adrianople went back to Turkey, Macedonia went to Serbia, and other territories went to Greece and Romania.

Still stinging from this defeat, Bulgaria threw its lot with the Axis in World War I, which cost it access to the Aegean Sea. The same strategy was followed in World War II, where the wartime borders show us the Bulgarian wish list, with gains from Serbia, Romania, and Greece (Turkey was not in the War). The post-War settlement erased those gains, except against Romania, which had also been a member of the Axis. Today Macedonia has broken away from Yugoslavia, but to become independent rather than a part of Bulgaria. Note that the numbering of Kings Boris III and Simeon II goes back to the original mediaeval Bulgarian Tsars.
Mediaeval Bulgaria, Qaghans & Tsars
Mediaeval Bulgaria, Asens
Mediaeval Bulgaria, Terters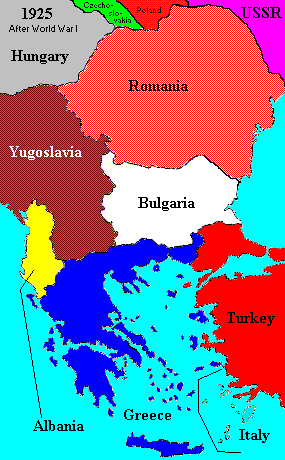 Trouble over Bosnia began World War I, when a member of a Serbian "Black Hand" assassination squad killed the Austrian Archduke Francis Ferdinand. Austria ended up declaring war on Serbia, Russia on Austria, and Germany on Russia. The Germans then, of course, invaded France, Russia's ally, and did so through Belgium, violating recognized Belgian neutrality and bringing Britain into the War. Turkey and Bulgaria, the losers of the Balkan Wars, sided with Germany and Austria, while the other Balkan countries went with the Allies (Greece reluctantly -- Queen Sophia was Kaiser Wilhelm's sister). The result was losses for Bulgaria and gains for all the Allies, with Serbia orchestrating the formation of Yugoslavia from Montenegro, Bosnia, Herzegovina, and other remants of Austria-Hungary, Slovenia and Croatia. România got Transylvania from Hungary and also gains from Russia, which was distracted by the Russian Revolution and Civil War. Bulgaria's loss of its Aegean coast would prove fortunate for the region when it later went communist. However little Greece and Turkey liked each other, it was convenient for them as Western allies to have a land frontier.