Brief Overview of Timur
Timur (1336-1405) is known in the west as Tamerlane. He emulated the great Mongol ruler Genghis Khan (r.1206-1227) some of whose descendants he displaced to reach power in 1370. Though later rulers were not able to emulate the charisma and military guile of figures like Genghis Khan and Timur, Turco-Mongol society continued to value skill in warfare, hunting and bravery. Still more than Timur before them, members of the Timurid and Turkman dynasties used art and architecture as a means of legitimising their rule.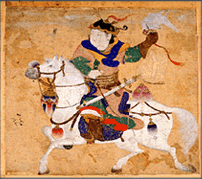 It was during Timur's reign that the nomadic steppe culture of Central Asia fused with the settled culture of Iran. One of its consequences was an entirely new visual language that glorified Timur and subsequent Timurid rulers. This visual language was also used to articulate their commitment to Islam.
Contemporaries noted Timur's preoccupation with history. During his campaigns he gathered scholars, architects, and artists from the cities and regions he conquered. Timur's successors were fully aware of the important role that books could play in legitimising their rule. Books were one way to develop accounts about Timur's life and deeds, an activity that began when he was still alive.