TransAnatolie TA06MA1
Cultural Daily Ankara Exploration Tour
For Pricing Click Here or Contac Us
Discover Ankara and Explore Top Museums in Ankara

Ancient Ankara -- Angora -- Hittite Akuwash
The city of Ankara lies in the center of Anatolia on the eastern edge of the Anatolian Plateau at an altitude of 850 meters. It is the center of the province of the same name which is a predominantly fertile wheat steppeland with forested areas in its northeast region ...
The history of the region goes back to the third millennium of the Bronze Age -- the indigenous population were called the Hattians. Akuwash -- the Hittite name for the city -- was established circa 3000 years ago at the intersection of 2 trade routes ...
After the decline of the Hittite Empire in the second millennium BC the (1)Phrygians -- (2)Lydians -- (3)Persians -- (4)Alexander the Great (333 BC) -- (5)Galatians arrived in succession. The city subsequently fell to the Romans
After lunch, our guide will lead us to the Anatolian Civilizations Museum; prize-winning museum of the best Worldwide Museums in 1995. This visit will be preceded by a tutorial on the Anatolian civilisations.
With historical buildings and solid origin, The Museum of Anatolian Civilizations in Ankara (Anadolu Medeniyetleri Müzesi) got the first place among the 68 museums and was awarded the title of "Museum of the Year" in Lausanne, Switzerland on 19 April 1997.
The Anatolian Civilizations Museum (Museum of Ancient Anatolian Civilizations) with its original collections is considered to be one of the top Museums in the world today. Anatolian archaeological creations are exhibited in a chronological order starting from the Palaeolithic Age up to the present time.
We then visit the ancient Ankara, the citadel-giving the opportunity to have a helicopter-view of the capital, the Konak Boyacizade, the Zenger Pacha Ethnografical Museum and the famous old Spice Bazaar of Ankara.

The Ethnography Museum is the museum where Turkish art from Seljuki to present time is exhibited.

Public clothes, jewellery, shoes, slippers samples collected from various regions of Anatolia, woman and man socks from Sivas region, various bowls, laces, scarves. Belts, handkerchiefs, bed sheets, bride costumes, bridegroom shaving sets, old traditional Turkish art are exhibited.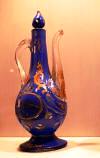 Technical material and designs unique to Turks and carpets, weaving benches from Uşak, Gördes, Bergama, Kula, Milas, Ladik, Karaman, Niğde, Kırşehir regions are exhibited. Among fine art samples of Anatolian Mine arts there are Memluk boilers from 15th century, Ottoman sweet boilers, hand washing jugs, trays, coffee trays, meal tables, cups, candle scissors etc. are exhibited.

Arrows, bows, lighting pistols, rifles, sword and other things from Ottoman Period, Turkish pottery and porcelain and Kütahya porcelains, religious and sect properties, Turkish inscriptions are exhibited with the nice samples.

Seljuki Sultan Keyhüsrev III's throne a finest sample of Turkish wooden works (XIIIth century), Ahi Şerafettin Sandukası (XIVth century), Nevşehir Ürgüp Damsa Village Taşhur Pasha Mosque nish (XIIth century), Siirt Ulu Mosque Nish (XIIth century), Merzifon Çelebi Sultan Medrese Gate (XVth century) are some of the important arts of the Museum.
Subsequently, we visit and explore The Mausoleum of Atatürk and The Ataturk Museum. Here, one finds his pictures and other exhibitions recalling the key events of Ataturk's life and the evolution of the Turkish Republic.

The Museum of the 1st World War- the Dardanelles- in the Mausoleum, the symbol of the rebirth of the Laic Republic of Turkey is also explored.

TransAnatolie Tour

Multilingual Cultural Tour Provider and Operator
Top | Further Information | For Pricing Click Here or Contac Us
---
Related Links
Anatolian Civilizations Museum (video)
Video: Ataturk
2008 Registrations for TransAnatolie Tours have began...