Museum of Ephesus, Selcuk, Selçuk, Izmir
Ephesus Archaeological Museum is located in Selcuk, which is 70km away from Izmir, where Ephesus ancient city is found.
The museum consists of a large hall, small hall, another big hall and a colonnaded courtyard. The exhibits are placed as in the sequel.

As one enters the museum, one sees a statue of Artemis in front, from Ephesus dating back to the 2nd century A.D. In the left hall bust of Eros made by Lysippos, a statue of Eros on a dolphin and God Bes are displayed.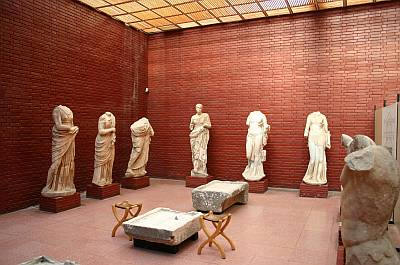 In the large hall, a big statue of Artemis from the Roman period, water palace, a niched room containing the Socrates fresco, statuettes from the fountains of Trajan and Pallio, the statue of Dionysus, Triton a relaxing warrior and Zeus are exhibited.

The small hall contains minor items displayed in showcases such as lamps, vases, statuettes, ceramics, busts of men and women and other small items.

In the courtyard, architectural fragments, grave steels, relieves, capitals and epitaphs are displayed. There is a sarcophagus brought from the Belvi mausoleum, busts of Hermes and Bes, sundial, bronze statuette of Eros and Dofen are in the centre of the courtyard. Byzantine mosaic, an Amazon sarcophagus and relieves from the Temple of Domitian are located in the backyard.
Links
Ephesus Information Center

TransAnatolie Tour
---