Selcuk-Efes (Ephesus)
Ephesus proudly houses one of the seven ancient wonders of the world; the Temple of Artemis. The city is dedicated to her and has many fascinating buildings. The precise date of the city's foundation is not known but legend said that the first Efes was founded by Women Warriors of the Amazon in the 14th century BC and later inhabited by lonians in the 11th century BC after the first settlement of the Anatolian's natives, the Lelegians. In a short time the city became very important. After 133 BC it became a Roman province and during the reign of Augustus it became the trade center of Asia.
With all these civilizations passing through Ephesus, the remains take one or two days to visit fully. The city still retains its importance, but this time as the most important archaeological and historical city in Turkey. One of the very amazing ruins in Efes is the huge amphitheatre with a 24,000 seat capacity and superb acoustic effects. Seljuk is close to Efes and is crowned with a Byzantine citadel and the basilica of St. John. Next to the basilica is the Seljuk Isa Bey Mosque. The Seven Sleepers' Cave is another historical place near Efes. The archaeological museum is significant with its striking collection of items gathered from the excavations in Ephesus. Every May there is an International Festival in Efes.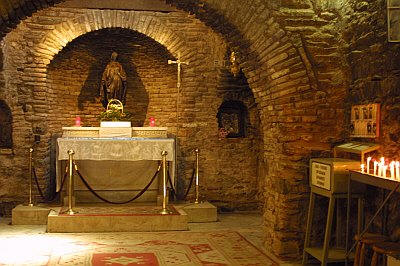 On Bulbuldagi (Mt. Nightingale) one can find the small house built for the Virgin Mary (9 kms from Seljuk) when St. John brought her to Ephesus after Christ's death. She spent her last days in that house. Today it is a place of Pilgrimage for Christians and also visited by Muslims, and is officially sanctioned by the Vatican. Every year on August the 15th, a commemoration ceremony is held there.
TransAnatolie Tour (Multi-Lingual Cultural Tour Operator)
TransAnatolie Tour is a subgroup of Anadolu and is a Multi-Lingual Cultural Tour Operator in Anatolia (Asia Minor) Turkey.

TransAnatolie Tour has the ambition and the capacity to be become one of the leading provider and operator of archaeological, historical, belief (biblical) and cultural heritage tours and specialty travel with high Quality of Service (QoS) concept.

TransAnatolie Tour develops its programs with a network of Specialists, who are well recognized, local, regional, national, and international professionals at the top of their fields. These Specialists share their knowledge, insights and vision providing an in-depth insiders understanding of what distinguishes a particular culture and what factors shaped its evolution.

TransAnatolie Tours are executed in five languages (Dutch, English, French, German and Turkish) with high QoS concept by Tourism Professionals of valuable experience, intelligence and high intellectual capacity.

TransAnatolie Tour executive and operations teams have been at the cutting edge of international tour (holiday) operations and specialty travel since 1990s, working with organizations, universities and museums to provide unique travel experiences, cultural and belief (biblical) tours (holidays/trips) to their memberships.

Multi-Lingual TransAnatolie Tour team members have many years of valuable experience in providing individuals and organizations with high quality cultural, historical, belief/biblical, archaeological, architectural tours and travel experiences with high quality of service (QoS).

TransAnatolie has immersed travelers in Anatolia's most fascinating ancient cultures and provided enriching travel experiences.

TransAnatolie (International Multi-Lingual Cultural Tour Operator) has also been in small boat cruises, building exciting travel packages around these unique vessels.

TransAnatolie is now expanding its distribution by making these high quality, unique travel products and programs available to the public. Supported by our international network of offices and affiliates worldwide, the aim of TransAnatolie Team of travel professionals and passionate program specialists is to make your next 'vacation' a truly rewarding travel experience.
TransAnatolie Tour is a member of
Turkish Ministry of Culture and Tourism (Licence No. 4938)

Ankara Chamber of Commerce (Trade registry under No. 54/1024)

Turkish-French Cultural Association

Turkish Association at the United Nations

Union of Turkish Tour Operators (TÜRSAB)

Union of Multi-Lingual Professional Tourism Guides (TUREB-ARED)

Ankara Cultural Tourism Association (BATUDER)

Nigde Cultural Association

Aksaray Cultural Association

Arts & Cultural Association of Taspinar.
TransAnatolie info-webs (pages)
On these webs you will find background information about our company, our offices, our current job offers and more info about current and future products and services.

If you could not find the information you need on these pages and/or on our other pages, or for inquires please do not hesitate to contact us at: info[at]transanatolie.com

TransAnatolie Tour

Multilingual Cultural Tour Provider and Operator

A - Group License N°4938 - The Turkish Ministry of Culture and Tourism
---