Diyarbakir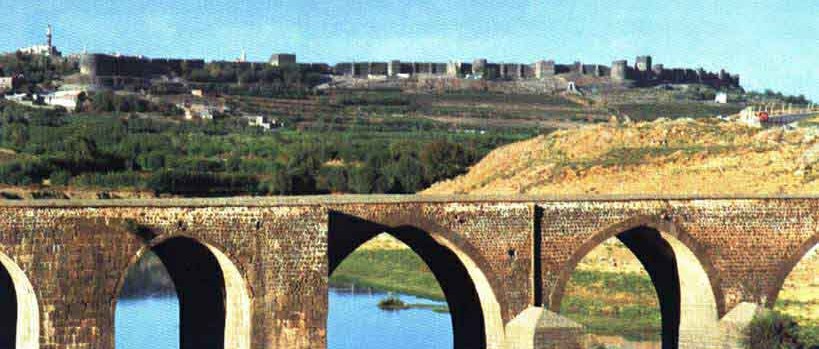 Situated on the banks of Tigris (Dicle), Diyarbakir still carries a medieval air with its walls encircling the city.
These black basalt walls are perfect examples of the military architecture of the Middle Ages. They are also very well known since they are the second largest (5.5 kms) and bestpreserved walls in the world after the famous Great Wall of China. Although there were Roman, and probably earlier walls here, the present walls date back to early Byzantine times. There are sixteen keeps and five gates, each of which deserves seeing along with their inscriptions and relief. There are four main gates along the wall called as Dag Kapi, Urfa Kapi, Mardin Kapi and Yeni Kapi.
You will have the chance to go back to bygone days at the Deliler Han by the Mardin Kapi of the City Walls. Now it is restored as a hotel preserving the original air of the old days when caravan travelers used to stop and rest.

Another fascinating sight in the city center, is the Ulu Mosque, notable for its original architecture and the ancient materials used in the restoration of the building at various times. Nearby the Ulu Mosque is the Mesudiye Medresse and Hasan Pasha Ham, a caravanserai now being used by carpet and souvenir shops. The Nebii Mosque is a typical example of the Ottoman style. The Church of the Virgin Mary is interesting and it is still in use.
The Kasim Padisah Mosque is also interesting, especially due to the engineering which built a large tower upon four tiny pillars about two meters high, called the Dort Ayakil Minare.
The location of noted mythological cave Eshab-ul Keyf, and Dacianus ruins are in the town of Lice. The holy Mount Zulkufil and Hilar Caves are in the town of Ergani. Within the environs of Diyarbakir are the Birkleyn and Hasun Caves, the Antak City ruins and the Cayonu Archaeological Site.
The city holds many mosques and buildings of long historical and archaeological importance. There are four museums in the city center. When you add to those the renowned watermelons of about 40 kilograms approximately, and its silver and copper artifacts Diyarbakir certainly stands as a destination to be visited. Gazi Kosku is a nice place for picnicking.
The town of Cermik is a spa center.
Time Line of Diyarbakir (Amida)
An important town in Southeastern Anatolia, about 60 miles north of the Syrian frontier.
To the Roman Empire.................................17-359

To Persia..........................................359-c. 400

To the Byzantine Empire.........................c. 400-c. 450

To Persia.......................................c. 450-623

To the Byzantine Empire............................623-639

To the Caliphate...................................639-990

Marwanid

al-Hasan Abu 'Ali..................................990-997

Sa'id Abu'l-Mansur Mumahhid ad-Dawla...............997-1011

Abu Shoja..............................................1011

Ahmad Abu Nasr ad-Dawla...........................1011-1061

Nasr Abu'l-Qasim Nizam ad-Din.....................1061-1079 with...

Sa'id.............................................1061-1063

Mansur Nasr ad-Dawla..............................1079-1085 d. 1096

To the Great Seljuqs..............................1085-c. 1100

Inalid

Ibrahim ibn Inal Turkoman......................c. 1100-c. 1141

Shams al-Malik Mahmud.............................1141-1183

To Hisn Keyfa.....................................1183-1232

Ayyubid

al-Salih II Nadjm ad-Din Ayyub ibn al-Kamil.......1232-1239 d. 1249

al-Mu'azzam Turan-Shah ibn al-Salih...............1239-1249 d. 1250

al-Muwahhid 'Abdallah Taqi al-Din ibn Mu'azzam....1249-1283

To the Mongols, and the Persian Ilkhans...........1258-1335

al-Kamil Muhammad Abu Bakr ibn al-Muwahhid...1283-c. 1320

al-Adil Muhammad Mujir ad-Din ibn al-Kamil Muhammad...c. 1320-c. 1340

To Egypt..........................................1335-latter 15th cent.

al-Adil IV Ghazi Shihab ad-Din ibn al-Adil Muhammad...c. 1340-c. 1360

al-Salih III Abu Bakr ibn al-Adil Ghazi

al-Adil V Sulaiman Fakhr ad-Din ibn al-Adil Ghazi...1378-1425

al-Ashraf Ahmad Sharaf ad-Din ibn al-Adil Sulayman...1425-1433

al-Salih IV Khalil ibn al-Ashraf.............1433-1452

al-Kamil Nasr ad-Din ibn Salih Khalil........1452-c. 1457

al-Adil VI Khalaf ibn Muhammad............c. 1457-c. 1462

al-Kamil Khalil ibn Sulaiman.................1462-1500

To the Ak Koyunlu............................aft. 1468-1500

To Persia.........................................1500-1516

To Ottoman Empire and Turkey thereafter...

Sulaiman II ibn Khalil.......................1516-1535 opposed by...

al-Husayn ibn Khalil.........................1516-c. 1525