TransAnatolie Tourism Services: Tour Development, Organization, Provision & Operations
TransAnatolie Tour has the ambition and the capacity to be become one of the leading provider and operator of archaeological, historical and cultural tours and specialty travel.

TransAnatolie Tours programs have been developed and are operated by TransAnatolie Tour-a subgroup of Anadolu.

The heart of our tourism spectrum comprises organization and operations of
Each itinerary has been carefully planned by our experienced tour program developers together with our outstanding scholars around the world.

TransAnatolie Tour executive and operations teams have been at the cutting edge of international specialty travel since 1990s, working with organizations, universities and museums to provide unique travel experiences, cultural and belief tours to their memberships. TransAnatolie has immersed travelers in Anatolia's most fascinating ancient cultures and provided enriching travel experiences.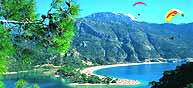 TransAnatolie has also been in small boat cruises, building exciting travel packages around these unique vessels.

TransAnatolie is now expanding its distribution by making these high quality, unique travel products and programs available to the public. Supported by our international network of offices and affiliates worldwide, the aim of our team of travel professionals and passionate program specialists is to make your next 'vacation' a truly rewarding travel experience.

The information on the TransAnatolie website is up to date-meaning it contains the latest, up to date information on prices and availabilities with an online booking engine.

TransAnatolie Tour

A - Group License N°4938 - The Turkish Ministry of Culture and Tourism
---